RetroNick: Games Collector //

Goodwill Hunting 2: Extreme Edition: Day 2
Goodwill Hunting 2: Extreme Edition: Day 2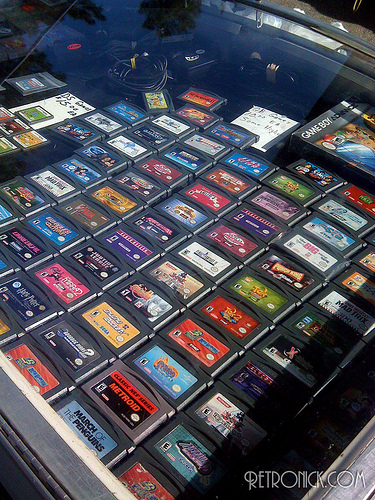 Despite how much ass the first day of my thrift store journey kicked, the next day would prove to be even more advantageous. Due to major life events sapping my wallet dry, You'll notice I didn't purchase a whole hell of a lot of goods. That said, the experience of being there, handling this stuff, and speaking with the shopkeepers I encountered was almost worth a truly epic find. In the interest of brevity I'm keeping this article picture heavy, and word light. If you missed Day 1, check it out before reading on. Otherwise, On to Day 2!
Up until this point, I'd seen what could be called "typical flea market fare." Controllers, consoles, carts, and CDs stacked on tables, in bins, and the dirt. The last booth I would visit however, was far from ordinary… For a flea market at least. Behold!
Not too much beyond that. I did pick up copies of Atlantis on the 2600 (which I confused with the super-rare Atlantis II), and Ducktales for the NES from another booth that wasn't all that photo-worthy, and stopping at a pawnshop later in the day would secure me a new in box copy of Vector Man for the Genesis, which only ran me around $7.00! It was a great time, and if you're ever in Richmond, VA, I highly recommend going on a little treasure hunt yourself!
That's it for the epic thrift-store weekend. I got to see some unusual things, speak with new and interesting people, and more likely than not, became a carrier for a new strand of tetanus. I hope you enjoyed my filthy exploits. There are more pictures if you're eager to see more console porn (you can thank @AzureLeeonardo for that phrase :D), just check out the Retronick flickr page.
6 Comments
ON "

Goodwill Hunting 2: Extreme Edition: Day 2

"
Copyright 2013 RetroNick