RetroNick: Games Collector //

HOARDERS: stories of extreme collectors: RVGF Steve
HOARDERS: stories of extreme collectors: RVGF Steve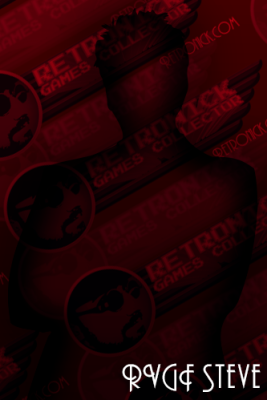 We're breaking the Hoarders segment back in with the massive Super Nintendo collection of Steve from RVGFanatic.com When it comes to games, He has an unwavering (and probably unhealthy) obsession for the Super Nintendo. He adored the system back in the day as a kid, and since 2006, has been back home with the SNES and have never left. Owning around 500 boxed SNES games, his dedication is readily apparent.
"In a lot of ways, as one guy once put it so eloquently years ago, "I feel like I'm fulfilling my childhood dreams." That quote always stuck with me because I feel it aptly describes my gaming story."
Why is the SNES your favorite system?
Some of my best gaming memories involve the SNES, so the nostalgia factor certainly doesn't hurt. However, nostalgia only goes so far. If I didn't still love playing these games today then my interest would have died off along with the '90s. What really stands out is just how stellar the library still is; I find many of them hold up extremely well today. I enjoy the SNES now as much as I did 20+ years ago. The system has stood the test of time. It was, and truly is, the SUPER Nintendo.
Speaking of its library, what are some of your favorite games on the system?
Of course you have the usual suspects: Contra III, Super Metroid, Earthbound, etc. These classics have, justifiably, been lionized. But I've always enjoyed championing the more "obscure" titles that aren't often as recognized. These include the original Ken Griffey Jr. (best baseball game ever), Demon's Crest (Capcom's finest SNES offering not named Street Fighter. Sorry, Mega Man X, although I love you too), BS Out of Bounds Golf (cutthroat 4-player mini golf with shades of schadenfreude that was sadly never released), Gunman's Proof (Zelda meets Wild West) and DoReMi Fantasy (perhaps the best non-Mario platformer on the system). There are tons more I could name but then we would be here all night.
How long ago did you start seriously collecting for the SNES?
Nearly 10 years ago.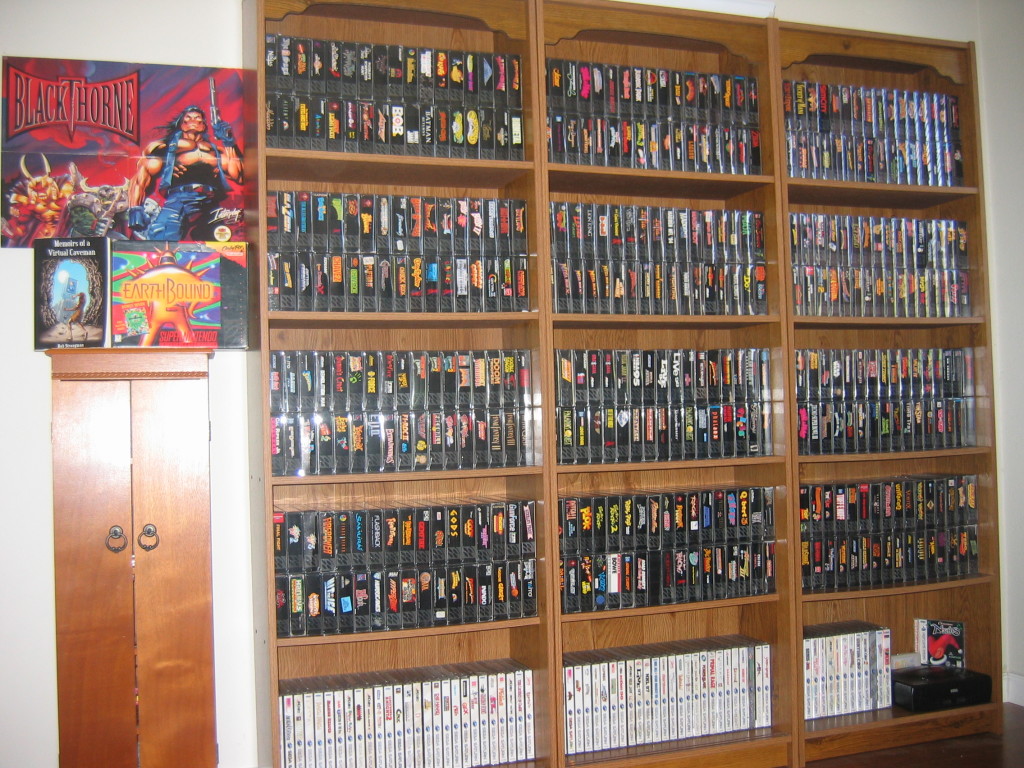 What was the SNES collecting scene like then? I was buying TG-16 stuff so I wouldn't know.
I was lucky because the SNES bug bit me January 2006. I beat the majority of the crowd by at least a couple years. Back then, 75% of the games (cart only) went for $5-$10. Only a small handful consistently touched $40 (Dracula X, Ninja Gaiden Trilogy and Mega Man X3 to name a few). Consider this: the first iPhone was a year away and Youtube was barely two months old. There were no "viral" videos increasing the awareness and desire of a particular title. It was a golden time where you would find lots of SNES games in the wild for cheap. It goes to show you how times have changed and how different things are today. Hagane, for instance, went from $5 in 2006 to $500+ in 2015. I count my lucky stars every time I see someone venting about how insane prices are.
Any interesting acquisition stories to share?
The summer of 2006 I drove to this stranger's house in a rough-looking neighborhood. I found his ad off Craigslist and at the time, I was a lot more bold and daring (i.e. willing to meet a stranger at their house). His house, I kid you not, looked like a smaller version of the house from Texas Chainsaw Massacre. He asked me if I wanted to come in to help haul out the goods. I hesitated, visualizing the scene where Leatherface whacks the guy in the head with a hammer, drags his carcass in and slams the metal kitchen door shut. Thankfully, his dad jumped in after a brief moment of awkward silence. "Nah, we got this." And with that, I was let off the hook, and that sure beats being on it. They headed back inside, leaving me there on the porch to ruminate. I could only stand there thinking, "I've seen one too many horror movies!" All this for a big box of old gaming magazines and strategy guides. Value-wise, it wasn't even close to being one of my best deals. However, it ended up being one of my most memorable transactions.
Hey, better safe than sorry…
Right? It was a sign of the times. I was young, "invincible" and eager to reclaim bits and pieces of my childhood no matter the circumstances. Looking back, I wouldn't do half the stuff I did! But that's what makes those old collecting stories fun and memorable. It was the feeling of getting back into the fandom, having a want list in the hundreds, a pocket half full of dead presidents, and the thrill of heading out on a crisp Saturday morning knowing you were likely coming home with at least something. It's a feeling that, much like beating a game for the very first time, can't be replicated.
So what prompted you to get back into the Super Nintendo?
It was the winter of 2005. I just completed my senior year at University and was on a fat six-week break. From 1999 to 2005 I was a DIEHARD Sega Saturn guy. I had a collection of over 350 games and loved that system to death. My cousins came over one night and we played some Saturn Bomberman. It was a blast (sorry). After they left, I had the strangest urge to play a platformer. I mulled over my collection and to my surprise, it suddenly hit me the Saturn didn't have much to offer in that way. Sure, I had the likes of Tryrush Deppy, Keio Yugekitai, Willy Wombat, Pandemonium, Sonic Jam and such, but it suddenly dawned on me for such a 2D powerhouse the Saturn was rather lacking in this timeless genre. And that's when warm fuzzy memories of the SNES started crashing over me like a giant tidal wave. I was overwhelmed with nostalgic memories as I recalled all of the fun platformers I played back in early-mid '90s. It also hit me then that there were so many SNES games I wanted to play back then but never did. And what a blast it would be to finally quell all those childhood curiosities. The rest is history.
After 9 years of owning about 500 SNES games, have you been able to play all of them yet?
Nope. Not even close. Even after nearly a decade of playing my collection fairly consistently, I still have maybe 150 to 200 games left to play.
What is the crown jewel of your collection?
My prized treasure is having the complete 48 issue run of Super Play Magazine, a UK publication from 1992-1996 that has been referred to as the "SNES Bible." It's the perfect companion piece to any SNES collection. One of my favorite things to do is pulling a game off my shelf, play through it, form my own opinion and then look up that title in Super Play to see what they thought. Comparing my viewpoint with theirs is all part of the fun. Another crown jewel is "Memoirs of a Virtual Caveman." Written by Rob Strangman, it features his gaming stories growing up as well as those of over a dozen guest contributors, including five stories from me. It's like a retro gaming version of "Chicken Soup for the Soul" that I highly recommend. Check it out on Amazon or Lulu.com.
Tell us about RVGFanatic.com. Why did you start it?
I started it because I wanted to document and chronicle my SNES experience and memories. In September 2006 I created a topic highlighting obscure Super Famicom imports. Every 2-3 days I posted new impressions, along with a ton of pictures. This ran into December and was even deemed by some as "the best thing going on the internet." That same month a guy messaged me to say I should convert all my obscure Super Famicom game impressions onto a website where it can be prominently and permanently featured rather than a message board topic destined to fade over time. That was the first real "AH HA" moment for me, and the rest is history. A short few weeks later, January 2007, RVGFanatic.com was born.
Your site has been running for 8 years and counting. What keeps you going?
Pretty much the same thing that got me started: my goal to experience my entire SNES library and to chronicle that journey. There are so many games on my queue that I've wanted to play for 20+ years now, but still haven't. Many of these games are "new" to me and the excitement of playing my collection one at a time and unearthing new favorites keep me going. I love writing SNES reviews: from the classic to the cryptic, from the best to the bad, and everything in-between.

What do you hope to achieve with RVGFanatic?
I hope RVGFanatic resonates with readers in a way that takes them back to a simpler time — a time in our lives where games stood center stage during lazy weekends and idyllic summers. I hope readers enjoy my work, perhaps even learn a useless fact or two along the way, but mostly, to just be entertained on our stroll down memory lane. As cited on my site, if my work encapsulates even just a tiny bit of '90s SNES magic, mission accomplished. I also occasionally reminisce about miscellaneous non-gaming items. For example, last Halloween I published an article pontificating about R.L. Stine's GOOSEBUMPS, and the impact those books made on my generation. Most recently, I wrote a love letter to professional wrestling highlighting my favorite rasslin' memories. So my site isn't restricted to just the SNES even though that is the main focus. RVGFanatic is simply one man's memories and remembrances. You never know what you might see when you stop by, but you can expect three things: plenty of nostalgic waxing, a ton of pictures, and an unbridled passion for a bygone era.
…
A great big thank you to Steve from RVGFanatic for taking the time to talk about his excellent collection (any collection where I can eye a Sega Saturn and games is excellent). You can follow his quest to experience every Super Nintendo game on his site, RVGFanatic.com!
274 Comments
ON "

HOARDERS: stories of extreme collectors: RVGF Stev...

"
Copyright 2013 RetroNick