RetroNick: Games Collector //

Iron Man Mode Raising Money for Charity
Iron Man Mode Raising Money for Charity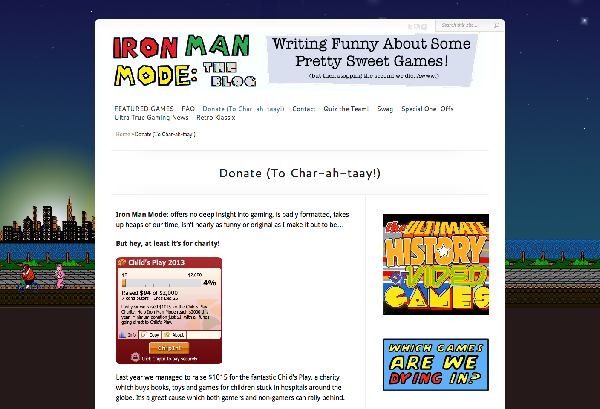 We were recently approached by Iron Man Mode: The Blog, to report on their "Donate (To Char-ah-taay!) initiative.
For those of you who are unfamiliar, IMM is a site where "…a bunch of handsome dudes play for keeps, and the premise is simple… Pick a game, play the game, blog about the game – if you die, the game (and blog) is over completely. Oh, and it's all for charity. – See more at: http://www.ironmanmode.com/iron-man-mode-gaming#sthash.O3wvB94M.dpuf" It's actually a really fun premise. I've been going back through their archive and reading some of the blogs put up for different games. So far, I'm really enjoying his chronicled journey through Final Fantasy VII.
Right now they need your help. Iron Man Mode is trying to raise $2,000 for the Child's Play charity by December. Last year they managed to raise $1,015. This year they're pulling out all the stops, going so far as to knock on the door of our ivory tower here. In case you didn't know, Child's Play is a charity that buys books, toys, and games for children stuck in hospitals worldwide. Your donations go directly to helping these children get the playthings they need to grow, learn, and develop.
So what are you waiting for? Stop reading this and go donate! It takes almost no time and it's for the best kind of cause, helping children in need.
7 Comments
ON "

Iron Man Mode Raising Money for Charity

"
Copyright 2013 RetroNick