RetroNick: Games Collector //

Playing Old School MTG with Danny Friedman
Playing Old School MTG with Danny Friedman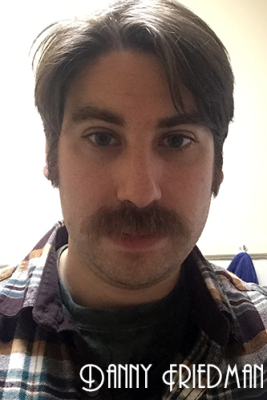 Despite my long history with trading card games, I actually consider myself somewhat of a beginner in the area. That's why when we were revving up to start producing more content on the subject, we decided to reach out to someone with a wealth of experience and knowledge. Serendipity stepped in as a colleague of mine told me of her Power-Nine-Magic-playing fiancé. Skeptical at first, I looked over a photo of his deck to see multiples of all the rare cards you hear about, but never see. Who in their right mind would play with an Alpha Black Lotus in their deck? Danny Friedman, that's who! Join us as we probe the mind of an Old School Magic Tournament player, and see what drives him to play this way.
Thanks so much for taking the time to speak with us on RetroNick.com.
Friedman: Happy to do it! I love talking about Magic, and it's great that you're providing me with the opportunity to do so. Hopefully this isn't too hokey and arcane.
How and when did you first get into Magic: The Gathering?
F: I first started "playing" Magic in 1994.  And by playing, I really mean that a friend and I messed around with a pile of his older brother's Magic cards. My friend's brother loosely explained the game, and then we attempted to try to play it. Given that we were both about 8 to 9 years old, most of our gameplay was centered around building decks largely constructed out of basic lands and big creatures. My first favorite card was Serra Angel (we had an Unlimited Edition one in the pile of cards that my friend's brother let us use). But as a kid, playing well or, even properly by the rules, for that matter, wasn't a priority for my friend or I. We went through the motions of the game because the flavor of the cards was fun and exciting for us, and it gave us something to do inside to beat the heat (I grew up in Albuquerque, New Mexico).
Fast forward to 2005, a friend of mine from college and I were driving back home from a camping trip and saw a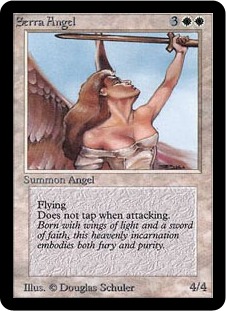 hobby shop on the side of the road with an illuminated neon Magic the Gathering sign. After we both spoke nostalgically about the game (me mentioning that I had bought some cards within the last year), and chattered about our childhoods with MTG, we decided to go in and buy some Ninth Edition starter decks. Of course Serra Angel was the featured card (albeit with a new picture and in foil), but it was the same old creature that happened to be my favorite card in 1994.
Within a couple of months, I was completely hooked and quickly discovered that the only I way that I could play both Serra Angel and the illustrious Sol Ring was if I played 'Vintage' magic. I had a set of Power Nine before the New Year. I also learned that Serra Angel was unplayable in Vintage – BOOOOOOOO.
Do you play with contemporary blocks, or do you solely collect and play with cards from '93.'94?
F: So as I mentioned, my introduction to tournament Magic was through Vintage (although everyone called it 'Type 1' at the time, as the names of the formats had all just changed). In Vintage, although you can play with just about any old card, the only way to be competitive is to use a mix of old and new cards.
While I have a personal affinity to the old card frame and dislike foil cards, I definitely play with many very current cards. It is hard to avoid cards like Yawgamoth's Will, Tinker, and Jace, the Mind Sculptor – they are all just crazy powerful. But that being said, you're referring to me as an Old School Magic player, and when it comes to that, cards from 1993-1994 are the only option – those are the rules of the format.
A few years ago, members of the US Vintage community (myself included) simultaneously stumbled upon Magnus de Laval's fantastic Old School Magic Blog. In it, we saw pictures of game states that hadn't existed for almost 20 years. We saw Beta Shivan Dragons and Juzam Djinns in actual decks, and this got many of us very excited.
I already owned a set of Alpha Power 9 and Unlimited blue-producing dual lands, so jumping into '93/'94 Magic wasn't entirely cost prohibitive. That being said, I love Alpha cards. It's the first set and printing ever, and it is the only set where the cards have such round corners. So, if a card is available in the Alpha printing, I generally try to play the Alpha version of the card; it's literally holding Magic history in your hand.
With many of my non-Old School Vintage cards being full-art altered with acrylic paints, I decided to create Alpha-style alterations for my Unlimited dual lands. Current Alpha dual land prices made acquisition monetarily unachievable for me, so this was the next best option. These cards have had the picture extended to the border, had double-black borders painted on (including the white dots in the corners) and have had the corners carefully trimmed to an Alpha radius.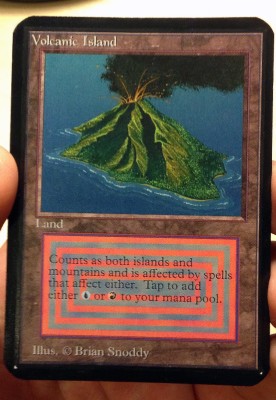 These create an Alpha-like effect, without just looking like fake Alpha cards. My Volcanic Islands do not look like this, however. During the initial Alpha print run, Wizards of the Coast accidentally left out Volcanic Island and Circle of Protection: Black. They were put into the Beta print run, but no Alpha versions exist. Because of this, my Volcanic Islands are altered with just double-black borders and rounded corners. Those who know that Volcanic Island was not part of the Alpha print run generally recognize the alteration, but most people don't even realize that they are looking at an alteration. I like these because of how subtle they are. And every now and then, someone thinks I cut the corners on a Beta Volcanic Island, which always gives me a chuckle.
Even people with no knowledge of the game's mechanics are familiar with the exceptionally rare, Black Lotus. Do you get nervous whipping that thing out in a tournament setting?
F: When I first saw someone playing with a Beta Black Lotus in 2005, I thought the same thing. I just couldn't believe that someone would take a card like that out, shuffle it, and play with it. That was before inner-double-sleeves existed or anything like that.
After seeing that most Vintage players who owned Power played with it, I was quickly desensitized to the whole thing, and got Power to play with. At the time, an Unlimited Black Lotus could easily be found for $600, so my $1,000 dollar Alpha one, while still expensive and rare, didn't scare me much to play with it (it wasn't the $10,000 plus that it is now).
Since inner-double-sleeves have existed, I am even less worried about damaging my cards. I shuffle in piles, as well as side-cut shuffle. I have yet to ever have an issue with damaging my cards. The biggest worry is loss or theft, so I take good care to watch my deck and always count its contents before, after, and during matches (pile shuffling by sixes does the trick well).
I will also say that an Old School deck does not look right without real Power Nine cards in it. They really give the decks a sort of mystical and ancient quality to them.
Since Old School Magic is not a format that is officially sanctioned by Wizards of the coast, can you sum it up for our readers and les us know how it differs from Legacy and Vintage tournament play?
F: Old School Magic, also known as 93/94, is a non-official tournament Magic format created by Magnus de Laval in Sweden in 2007. It is much like Vintage, in that it has a Restricted cards list (this list is not the same as the Vintage Restricted list), but unlike Vintage, does not allow any card ever printed. The only legal sets are Alpha, Beta, Unlimited, Arabian Nights, Antiquities, Legends, and The Dark.
The idea is that this format only allows the cards and their specific earliest printings to create game states that are reminiscent of the heyday of Magic – a time of simpler interactions and powerful cards. Unlike Vintage or Legacy, even though Old School Magic has access to some of the most powerful cards in the game, the plays themselves are generally less broken than Vintage and Legacy.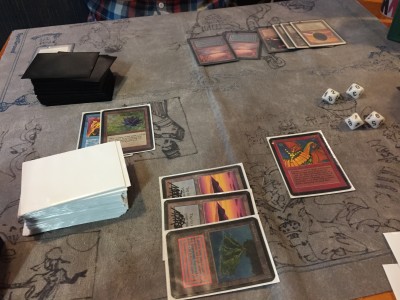 In both Vintage and Legacy, there are multiple decks that can with specific seven-card opening hands with a combination that wins the game on the first turn. While hands like this aren't likely, and are easily disrupted by cards like Force of Will or Mental Misstep, the concept of "turn one combos" is a known attribute of eternal Magic formats.
This contrasts interestingly against Old School Magic, where many of the powerful Vintage cards are legal and played in the format, but aside from the infamous Channel/Fireball play (also requiring Black Lotus and a land), there are no simple turn one win combos. Moreover, the best early plays in Old School Magic mainly just put that player in a commanding position, rather than just winning the game immediately.
While Magnus has created his set of rules for Old School with a specific selection of legal cards to play in his format, this is an unofficial format, just as you stated. Because of that, there are all sorts of variations all over the world. Just like the Elder Dragon Highlander format (now known as Commander) was once a casual-only format with house rules that were not limited to banning specific cards, Old School Magic is also a similar and adaptable animal. Certain groups allow proxies, certain groups include Fallen Empires (as that expansion was also printed in 1994), certain groups even play into later years of Magic.
Last November, I met Evan Husney, an NYC Vintage player, when he played in the Eternal Central Eternal Weekend Old School tournament which was hosted in my hotel room. He told me about his group of friends that run 1995 Old School tournaments – they include the Ice Age expansion from 1995. He showed me his web site and I was instantly hooked.
They have created a website that looks just like it was made in 1995, www.landlotusjuzam.com. They have a tournament video that even includes a commercial for the "upcoming" Homelands expansion. Needless to say it's one of my favorite Magic websites on the Internet. I recently traveled to New York and competed in Land Lotus Juzam's Conference of Professionals '95, where I played with a new Restricted list, and "new" cards from Ice Age. I had a blast.
So basically, while Magnus came up with a really great idea, people have adapted his format internationally to fit their own tastes. Old School Magic is very much specific to the particular play group, so there are many different flavors of the format.
Since these cards are becoming increasingly rare and valuable, are there players playing with printed scans in deck protectors, or is that just not in the spirit of the thing?
F: For those who own Power Nine and other valuable cards – unless the cards are graded, people generally play with them, and that seems to be a constant theme in Old School, Vintage, and Legacy.
The concept of proxies for players that don't own some of the expensive cards is a different story. This varies pretty heavily by play group, but the European players do not play with proxies. This is my personal preference as well (specifically for Old School, but not Vintage/Legacy). The major downside is that this keeps the format unattainably expensive for newcomers without the cards.
But in the spirit of the early days of MTG, if players didn't have a particular card, they just couldn't play it, and I feel that this is a good practice for Old School. This makes the deck building process an adventure on its own. There are many viable decks that can be played without Power and without dual lands. I feel this helps diversify the decks and inspires creativity. As evidence from the recent 'Conference of Professionals '95' that I went to, which allowed proxies, I didn't observe a single unpowered deck. I personally didn't see any mono-colored decks either (I may have missed one). If the attendees were forced to play with what they owned, it is possible that there would have been a more diverse metagame, but I cannot be sure. This definitely appears to be the case when I look at Magnus's blog.
Wow! I want to say you guys are genuinely insane, but I actually get it somewhat. How much of your drive is as a collector, and how much is as a player?
F: I do really love playing with the old cards, and I do really enjoy checking cards off my personal list of "cards that I'm looking for." That being said, I am not a huge fan of the concept of collection in Magic. I like when other players own and play nice cards, but specifically, I like that they play them.
Again, I am not a fan of graded cards. I don't like that there are cards out there, that Old School and Vintage players could be physically playing with in the community, but the are holed up in some collector's closet. I guess I like the collection aspect to a certain degree, but most of my drive in both Old School and Vintage is as a player.
For instance, I love cards that are super heavily played. It gives them character that near mint cards will never have. I'm not saying that I would intentionally damage my own cards, or play without sleeves, but I certainly don't look to acquire the cleanest cards.
Is there a stigma against those kind of players with proxies by the community, or are they just seen as wanting to experience this type of play without having to take out a loan?
F: Players who use many proxies in Vintage (where allowed) do seem to be looked down on. I take issue with this. Vintage is a format of skill as well as investment, but I would rather the format be filled with proxies and skilled players than the opposite. I do love seeing real Power across the table from me in Vintage, but I'd rather have a hard-fought game than eye candy.
For Old School, as the feel and look of the game is, in my opinion, of the utmost importance, I am not a fan of proxies (as stated earlier).
Where can people play Old School Magic?
F: Right now the format is very small, with pockets in Sweden, Norway, Italy, Canada, and a couple US groups. It is comprised mostly of groups of enthusiasts getting together to drink beer, play casually, and experience the nostalgia of casting Mahamoti Djinns and Craw Wurms.
If your friends are interested in trying it out, try building some decks allowing Alpha, Beta, Unlimited, Arabian Nights, Antiquities, Legends, The Dark, then include Revised and Chronicles to make the card pool a bit more monetarily forgiving. If you're still having fun after that, the sky's the limit. Eventually your group will decide what sets you want to play, stance on proxies, and what types of Old School flare you may want to add (employing 'mana burn', or damage stacking, or maybe even pre-Sixth Edition rules).
I will say that Old School Magic is generally easier to start amongst Vintage players, as most of them already own the expensive cards for the format, and clearly love playing those cards. This has been my experience in California, Chicago, and New York.
Any other advice for the noobs out there? Can be about anything from making the perfect sandwich to utilizing Winter Orb without shooting yourself in the foot.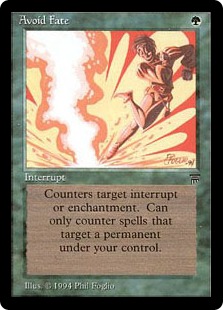 F: The perfect sandwich: Extra lean, hand-cut hot corned beef, fresh rye bread (not marble), spicy brown deli mustard, minced white horseradish, Russian dressing on the side for dipping. No cheese. Cup of home made matzo ball soup on the side. Dr. Brown's Black Cherry soda to ward of the meat sweats.
But in all seriousness, as far as advice for noobs out there relating to Old School or Vintage, these formats are all about love of the game, community, and nostalgia. The cards are not cheap, nor is there any money in competitive play/tournaments. If you are looking for cutthroat competition and big tournaments, Old School is not the format for you. If you're looking to win the game by attacking with Erhnam Djinn and protecting it with Avoid Fate, welcome to 1994 – it's glorious.
Anything else you'd like to  add for the kids at home?
F: So, I know a lot of this interview has focused on these old cards that cost ungodly amounts of money, but that is not what the creators of Magic intended. Richard Garfield made this game as something to do while standing in convention lines, waiting for D&D events to start. Although Magic was created as a "collectible card game," I don't think that $100,000 Beckett-graded Black Lotuses were anything that they envisioned or wanted, and I truly believe that the costs associated with high-end Magic have not been good for the health of the game.
There is definitely something cool about casting a $5,000 Ancestral Recall, but the costs associated has made Vintage (and to a degree, Old School Magic) a format for the extremely privileged and those who got into the game early. When I first got into Vintage, a 10 proxy deck cost $1,000. Don't get me wrong, $1,000 is a lot of money to play a game, but at this point, $1,000 covers just three Underground Seas or three Volcanic Islands. As a result, there has been a massive decline in Vintage tournament attendance since the late 2000s. MTGO putting Vintage online has helped somewhat, but the format is nowhere near as widespread as it was ten years ago.
While playing fancy old cards is an element to both Vintage and Old School Magic, it isn't the main focus. This game is about having fun, showing your skill and creativity, socialization, and community. Collection is a tiny piece of this, but it can often appear to overshadow the game, especially in formats that utilize such expensive cards.
Despite my own, or anyone else's feeling on 'pimp' cards or proxies, that should never be a deterrent from getting into a format. There is nothing stopping anyone from building Old School or Vintage decks entirely out of proxies and playing them with your friends. And personally, I value having fun, socializing, and building community with Magic over having the most luxurious cardboard.
When I recently competed in Land Lotus Juzam's 'Conference of Professionals '95', I was playing a pretty tricked out deck:
That being said, my nice cards, and the nice cards I saw others playing (I met this awesome guy, Lee, who had three Beta Shivan Dragons in his deck), were not the main highlight of the tournament.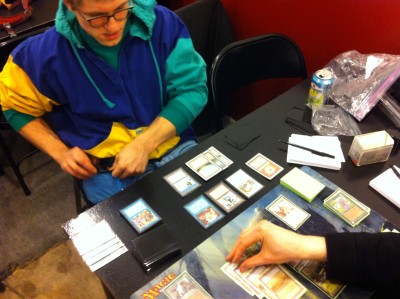 Things like this guy Garrett wearing a multicolor, patchwork-style hoodie, with a fanny pack containing a Zip Lock bag with his deck (containing Power including a Beta Black Lotus nonetheless!) was amazing.
It very much encapsulated the 1995 theme and spirit. Or when Creep by Radiohead came on the stereo and someone yelled out, "Hey, it's that new band, Radiohead!" Or their amazing life pads (including pixelated Juzam-Lotus icon).
By far the best thing about the Conference of Professionals '95 was meeting so many great people and making new friends. Evan Husney's group of 1995 Magic people in NYC was so inviting, and not only made me excited about Magic, but also showed the power of how community is the driving force behind the Old School format. I highly recommend that you follow Land Lotus Juzam's website if you are anywhere near the NYC area and make it out to one of their tournaments. They allow proxies and are a great bunch of people.
So anyways, what I am trying to say is that the biggest deal, at least for me, is having fun with this stuff. If you're looking to get into Old School Magic, don't get hung up on the cost of cards or playing the most powerful deck; look at this format as a way to have fun with your current friends, make new friends, and build a community, all while playing outdated (and mostly outclassed) Magic. This is not an official format, so take charge of it and decide how you want to play it.
After rekindling his childhood love of Magic, Danny Friedman has been brewing outlandish Vintage decks since 2004. With a persistent footing in the past, he recently put his expansive collection of Alpha cards to work and has become an evangelist of 93/94 Old School Magic. When he isn't Forking his opponent's Mind Twist (or casting Accumulated Knowledge for 4), he enjoys listening to records, debating the intricacies of language, and working on his diesel Volkswagen(s).
Follow Danny around on Twitter and be sure to check out some of his other writing at Eternal Central.
1 Comments
ON "

Playing Old School MTG with Danny Friedman

"
Copyright 2013 RetroNick